1.)  At a point 18 inches above the boom, measure from 2 inches in front of the mast to the point you wish the Shadetree to end forward (leaving appropriate deck space for using the windlass and ground tackle).  In the event shrouds are forward of the mast, measure 2 inches in front of the shrouds to your desired length. Record this measurement in the diagram below. Please also note if there are staysail stays or baby stays present and their distance from the mast.
2.)  Once you have the front and aft edges of the awning determined from step 1, now measure the width.  At the aft (mast) edge of the awning, measure from port lifeline to starboard lifeline.  At the point forward (bow) where you wish the awning to end, again, measure lifeline to lifeline.  Record your measurements in the diagram below.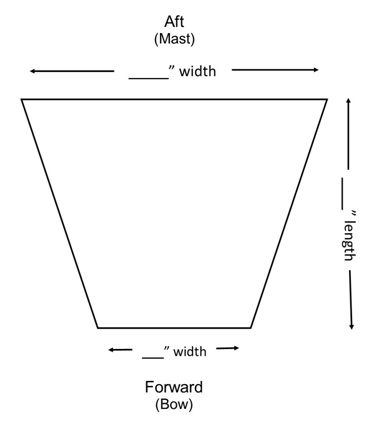 Email this form to us at info@shadetreefabricshelters.com or call us at 1-888-807-4233. Using these dimensions, we will determine the proper canopy and wand frame size for your boat. In the event the dimensions do not conform to a standard Shadetree model, we will design a custom awning to fit.